Post-Secondary Education Funding
Rupertsland Institute (RLI) provides post-secondary financial aid to Métis students to reduce the overall cost of education and the financial burden it can have. RLI seeks to increase the number of Métis students who successfully complete post-secondary studies and to bring parity between Métis post-secondary participation to that of other Albertans.
The RLI Post-Secondary Education (PSE) program is made possible by a 10-year funding agreement between the Government of Canada and the Métis Nation of Alberta and it is in effect until 2029. Because the agreement is distinctions-based, only Métis Nation of Alberta citizens will be able to access PSE programming.
PSE funding will be available to eligible applicants on a first come, first serve basis. Funding is limited.
PROGRAM ELIGIBILITY
Applicants must meet the following requirements; RLI will verify all information provided:
Must be a member of the Rupertsland Métis Students Association.
Must produce MNA Citizenship identification card or provide an identification number pending verification by the MNA Registrar.
Must be enrolled in a recognized post-secondary program in Canada (excluding applicants applying for Referral Program Support).
Must work with RLI services to determine level of support from Métis Students Services (if applicable) and commit to a Student Action Plan.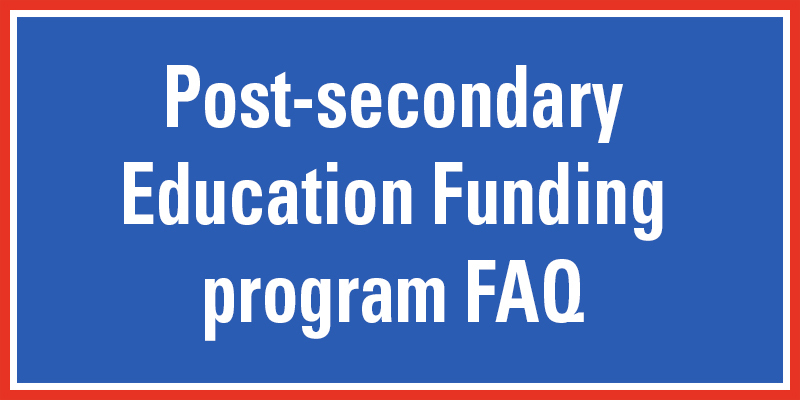 APPLICATION PROCESS FOR POST-SECONDARY FUNDING
Online applications for the RLI Post-Secondary Education program will begin on November 2, 2020 and end at midnight on Louis Riel Day, November 16, 2020 for the Winter Semester starting January 2021.
For information on Post-Secondary Program funding, please email:
Post-Secondary Education Program Inquiry: postsec@rupertsland.org for inquiries about post-secondary funding.
Information on Status of Application: applications@rupertsland.org for inquiries about the status of the application. Available to applicants only!
Online Application
Use Google Chrome or Microsoft Edge as your web browser
Visit the application webpage (Note: Applications are open on November 2, 2020). You will be directed to the Online Application System.
Create your RLI student profile by using a valid email address.
Validate the email address.
Follow the application instructions and provide ALL information and attach documentation as required. Partial submissions can cause delays and may not be funded as financial support is provided on a first come, first served basis for eligible applicants.
Applicants will be contacted by RLI services to conduct an assessment and commit to a Student Action Plan.
In-Person Application
Temporarily Suspended Due To COVID-19 Until Further Notice.
Métis Student Services Support
Métis Student Services Supports will begin in January 2021
Access to these services is limited and dependant upon an assessment by an advisor.
Students MAY be eligible to access the following supports:
Métis Student Services Support
Program Stream
Activity
Targets
Referral Support
School Application Fees
Eligible applicants transitioning into 1st year of post-secondary from high school or returning to school in later years. This is a one-time payment.
Professional Fees
Current and recent graduates to register in a related professional body.
Distant Learning Support
Hardware (laptop), software, IT peripherals
Must be enrolled in 1st college or university in an eligible post-secondary institute.
Eligible applicants enrolled in university (2nd to 4th year) or college (2nd year) may access this support under Sundry support.
Applicants may not apply for distance learning hardware support twice.
Health Services Support
Counselling
Eligible applicants requiring one-on-one mental health support with a professional counsellor.
Sundry Support
Various circumstance
Eligible applicants facing unforeseen events of or circumstance like family emergency, disease, or natural disaster. Funding level based on a needs-assessment.
Métis Scholar Awards
Are you a full time Métis student in one of 17 post-secondary institutions in Alberta?
You may qualify for financial assistance through the Métis Scholar Awards program that provides financial support in years one to three of your certificate, diploma or undergraduate program. Depending upon the institution, Métis Scholar Awards may also be available for graduate studies. Final year financial assistance (the last two semesters) is available for students via the RLI Higher Learning Completion program.
The Métis Scholar Awards program is funded through endowment agreements negotiated at post-secondary institutions across Alberta through the Métis Education Foundation (MEF) and RLI. The endowments and awards are administered directly by each post-secondary institution.
Métis Scholar Awards are available at the following institutions and all applications must be submitted directly to the appropriate post-secondary institution:
Métis Scholar Awards Criteria
Métis Scholar Awards criteria varies across the different post-secondary institutions. While there are commonalities across the overall endowment program, careful consideration was given to the programs at each institution to maximize the benefits to Métis students.
When considering your application for the Métis Scholar Awards, please contact the post-secondary institution directly to identify application deadlines and specific criteria that may apply.
To qualify for a Métis Scholar Award, a student must meet the criteria of both the Métis Education Foundation (Métis Scholar Awards criteria) and the post-secondary institution where the endowment resides.
The general criteria are as follows:
Is not receiving RLI Métis Training to Employment (MTE) funding;
Show proof of Métis ancestry by submitting one of the following:

photocopy of a valid Métis Nation of Alberta (MNA) membership card (which can be obtained by applying to the MNA) or a valid Métis membership card in any of the following governing members of the Métis National Council: Métis Nation of Ontario, Manitoba Métis Federation, Métis Nation – Saskatchewan, Métis Nation British Columbia; or
photocopy of parent's, grandparent's or sibling's valid membership card in any of the above named Métis organizations (along with proof of this kinship connection); or
other valid proof of Métis genealogy linking to the Métis Homeland (as validated by either MNA/RLI);

Submit a letter outlining how receiving a Métis Scholar Award will assist them in achieving their educational goals
Is not Inuit, nor a Registered, Treaty or non-status Indian;
Enrolled in full-time studies;
Demonstrates financial need;
Holds minimal GPA requirements.
*Each institution may have its own specific criteria in addition to the eligibility requirements listed above.